The Nigerian Dwarf breed captured our hearts early in 2009. We were lucky enough to discover Fred and Linda Phillips and visited their herd at Kannah Creek Farm and fell in love.  Tina and her side kick Izzy followed my husband around the yard and we were smitten.  Our original plan to keep two goats has morphed into a herd of 9...now 17...21...and counting!

Our goals are simple. To raise friendly goats who kid easily, and provide lots of delicious milk. To do that, we participate in the ADGA Dairy Herd Improvement program and the ADGA Linear Appraisal program to constantly improve our herd. We also invest in new does and bucks to improve milk production and structure. We have participated in shows in the past but we currently don't want to expose our herd to other herds in order to maintain our herd's health.

Karen and Marc Coutu

Bridgeport Farms

2020 Breeding season...

Kids are arriving! All kids are purebred, registered with ADGA. Please check out our Kidding Schedule to see what we have to offer. We are wait list only so please contact us and we can put you on the list. If you have a request for a certain breeding, a deposit is required if those kids are available. We, of course, retain the rights to any kid from any breeding.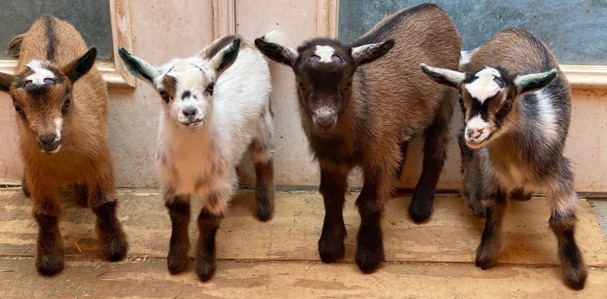 Herd Health

We take the health of our goats very seriously.  We have never had a case of CAE, CL, Johnes or Brucella in our herd.  We have tested in the past and have never had an animal test positive.  Since our last clean test in 2016, we've only brought in goats from other herds that have tested negative. We are happy to perform testing for any prospective buyers at their expense.

DHI and ADGA dairy stars!!

In 2019, we began DHI (Dairy Herd Improvement) milk testing. For the first year, we did owner sample testing. All tested does received their milk star for 2019!! Jane, Ilsa and Barbarella are now 3 *M does!!

This year, for 2020, we've been able to find testers, enabling us to do standard testing. Through testing, we'll be able to continue making breeding decisions based on milk production records and Linear Appraisal.

In the past, we've done one day milk test to gain stars for our does. Kannah Creek RM Arco Iris *M was our first star in 2011. Kannah Creek RM Isabel *M and Bridgeport Farms KCY LeeLoo 2*M both earned their milk stars on one day test in 2013.  Isabel's butterfat was 7.4% and LeeLoo's 6.8%.  In 2017, Bridgeport Farms BF Lexi *M and Bridgeport Farms LVS Mereda *M also earned their milk stars. In 2018, Cindy Lou and Horei (Dory) earned their stars. And, Soureliette joined us, having earned her star during her first freshening year on DHIR.

Check out our linear appraisal scores. Scores are up for 2018 and 2019.

Ancestor Photo Albums...explore the wonderful, colorful ancestors of our Nigerian Dwarf Herd.  The history of the breed is fascinating to me.  I hope to compile an extensive library of photographs and pedigrees of our herd. Thanks to Kannah Creek Farm, Piddlin Acres, Sage Acres, Lost Valley, Magic Apple Nigerians, Old Mountain Farm, Noall's Ark, and Redstone for sharing their wonderful photographs.